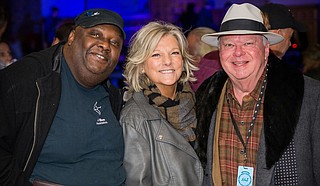 Vicksburg is a city known as much for its vibrant blues-music scene as its history, and that's saying something. If you have made your way over for one of its many concerts, festivals and shows in recent years, the odds are good that you've crossed paths with Shirley Waring, one of the people charged with preserving that musical heritage.
Waring has been on the board of directors for the Vicksburg Convention and Visitors Bureau since 2009 and the Vicksburg Heritage League since 2006, and she also served on the board for the Mississippi Delta National Heritage Area for three years.
Perhaps most notably, though, she has been the president of the Vicksburg Blues Society since founder Lucille Ridges retired in 2006. Waring serves on the board of directors alongside London Branch, who founded the Jackson State University Symphony Orchestra; Jerry "Boogie" Mason, who is the president and CEO of Mason Media Services; Mississippi Tourism Hall of Fame member Lenore Barkley; Hank Harris, the president and CEO of the National Black Tourism Bureau and the Gulf Coast African American Visitors Bureau; and Terry Duffie, the newest addition to the society's board.
While Waring is passionate about Vicksburg's past blues greats such as Grammy Award winner Willie Dixon, she says promoting its history and its present go hand in hand. She produces a variety of events featuring Vicksburg- and Mississippi-based acts, from major undertakings, such as providing live music for American Queen Steamboat Company cruises, to weekly entertainment offerings, such as the "Music on the River" series at The Big Muddy, a new restaurant and venue that opened in Vicksburg in January.
"(It's about) creating music as an attraction," she says. "The Mississippi Development Authority developed the Mississippi Blues Trail. Well, it's not enough. We've got five Blues Trail markers here in Vicksburg, but it's not enough to have people come into town, walk up to a marker and say, 'Oh. Great.' They want music. They want blues."
Waring says one of the main ways that the Vicksburg Blues Society supports Mississippi music is through competing in the International Blues Challenge in Memphis and hosting the Vicksburg Blues Challenge, which will take place Aug. 27 at Ameristar Casino this year. The local challenge determines the acts that represent the society in the annual IBC in two categories: solo/duo and band.
Since the Vicksburg Blues Society became a competing member of the Blues Foundation in 2012, it has had two winners—Mr. Sipp in 2014 and Eddie Cotton Jr. in 2015—and three finalists, most recently solo artist Sam Joyner in the 2017 challenge.
"We've brought the international spotlight to the blues in Mississippi, and we work with the Central Mississippi Blues Society, the Indianola Blues Society, and we all put on these challenges, pick out these fantastic acts, and go up to Memphis to represent Mississippi blues," she says.
"They're always really happy to see us because, even though there are lots of ... members of the Blues Foundation, not everybody interprets the blues with the style of the Delta or traditional blues. So when people are kind of confused over, 'Well, that's not really blues; what are they doing here?', they're always thrilled to see Vicksburg."
For more information, visit vicksburgblues.net.