Thursday, January 25, 2018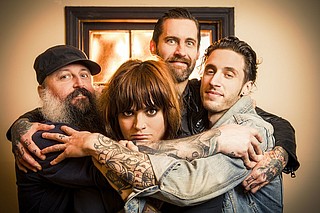 UPDATE: Royal Thunder has cancelled its performance in Jackson due to illness. Backwoods Payback and Bad Magic will still be performing at CS's Restaurant.
Drummer Evan Diprima may provide a lot of the "thunder" of hard-rock band Royal Thunder, but he is actually the one of two later additions to the Atlanta four-piece. Guitarist Josh Weaver and vocalist Mlny Parsonz formed the earliest version of the outfit in the mid-2000s, bringing Diprima into the fold in 2012 and guitarist Will Fiore in 2015.
Diprima met his future band mates while playing with other rock groups around Atlanta and eventually stepped up to help when Royal Thunder needed a touring drummer to promote its debut full-length record "CVI" in summer 2012.
"Atlanta is just kind of this small community where all the musicians know each other or know of each other, and Josh just hit me up one day, asking basically if I could fill in for tour," he says. "We got together, and then, within two weeks, I learned the set, we went out on the road, and then about half way through the tour, he asked me to join permanently."
Both musically and personally, Diprima says that he clicked with the band instantly, but over time, it has also become a family.
"It's not just business friendships," he says. "We're actually best friends, like brothers and sister."
Fans got to hear what the whole family could create together with 2017's "Wick," Royal Thunder's fourth studio release and its first to feature all four members. Diprima says their latest album continues the evolution of their sound from 2015's "Crooked Doors," his first recordings with the band, and is Royal Thunder's most focused work to date. In part, that stems from the band coming into the studio with most of the song ideas for the album already in hand.
"A lot of 'Crooked Doors' was written during the time we were in the studio, whereas 'Wick' was, too, in certain parts, but for 'Wick,' we already had the basic ideas for every song," he says. "Whether it was riffs or melodies, we had (the idea), and then we pretty much just trimmed the fat. We had a 'less is more' type thing. We didn't really try to go out of our way in search of adding things to the songs. Once the songs felt right, we went with that. Even if the songs seemed shorter or longer, we were like, 'Well, this seems good.'"
For Royal Thunder, the process of making an album often means planning out just a few songs and guitar riffs that they will jam on, but the studio is where they take the time to hash it out together and create the structure of songs.
"We're in there only to work and write at that time, so we have to feel like we got all the work done," he says.
Helping along with that process is the band's "fifth member," producer and engineer Joey Jones at Aria Recording Studio in Marietta, Ga. Diprima says that Jones has worked on all of the band's recorded material thus far and has a firm grasp on the band's sound even as it shifts between records, an important quality in an in-studio collaborator.
"You just have someone, at that point, who is like a member and one of your best friends, and he just knows the band and knows the music and understands it," Diprima says. "If you go in with someone you've never worked with before, they may try to throw you some stuff that you'd never really want to do."
Royal Thunder's latest tour brings the band and its supporting act, Pennsylvania trio Backwoods Payback, to CS's Restaurant (1359 N. West St.) this evening, Thursday, Jan. 25, at 8 p.m. The show will also include Jackson doom-rockers Bad Magic.
For more information, find the event on Facebook or visit Royal Thunder's website.