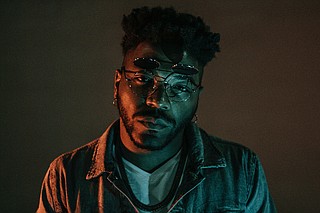 Something was not sitting right for James Villes. In 2017, after working on a new recording project for about a year and a half, the hip-hop artist and Jackson native, whom fans know as Alexander FRE$CO, says the music just did not seem to flow right to him.
"When I was coming up with the project, which I was supposed to drop last year, I listened to it a couple times, and I was like, 'This is not working. It's up and down, up and down,'" Villes, 26, says.
He already had about 17 completed songs at the time, some that fell into the more straightforward rap arena and some that highlighted more R&B elements, including his singing vocals.
While Villes felt confident in all the songs, he says that he wanted all of them to have a cohesive feel, both as a collection of recordings and as material for live shows.
"As far as me working on performance sets, I can't be all turned up at the beginning and then slow at the end," he says. "I didn't want it to feel like a rollercoaster. I wanted everybody to be on the same vibe, but I most definitely had to separate some things to make it flow."
That separation ultimately resulted in his latest release, "Neon Nights," an R&B-influenced hip-hop project that he put out on Jan. 26. Villes says that he designed "Neon Nights," which features producers Santalus Beats, The Cratez, J-Louis, Pyrmdplaza, Ric & Thadeus and MJ Nichols, for fans to simply press play and let it ride from start to finish. The music also contains a meta-narrative telling the story of a relationship.
The decision to split the project into separate releases also provided Villes, who began seriously pursuing his music career in 2015, with an opportunity to start fresh, rebrand himself and broaden his creative output as an artist.
Before releasing "Neon Nights," Villes removed his previous releases and music videos as Alexander FRE$CO from online for a clean slate. Going forward, he says that he also plans on alternating between rap and R&B releases while gaining feedback to inform what comes next.
"It's really going to depend on the people, how they react it and what they want to hear," he says, "because at the same time, I'm still performing in different places, so it's whatever people want to hear or whatever the mood calls for. ... I'm not one to try to limit myself because it can be a show over here where they're like, 'Hey, they don't do rappers.' Well, guess what? I also do R&B."
While Villes chose to focus on a new, more atmospheric sound for "Neon Nights," fans will not have to wait long to hear a return to his rap roots.
While preparing for this release, he continued perfecting the unreleased hip-hop songs and writing new material. Knowing that his next rap project is already finished took off some of the pressure off of taking greater risks stylistically on "Neon Nights," he says.
"I just put it all as part of the plan because (a rap project) is going to come soon," he says. "I'm not even worried about it. If this is what's going to go for now, I'm going to have those in the stash. They're going to always be ready so I ain't got to be like, 'Well, I've still got to record this, and I've still got to record that.' It's like, 'No, it's already ready to go!'"
Alexander FRE$CO's "Neon Nights" is available now on iTunes, Spotify and SoundCloud. For more information or to purchase a physical copy of the release, visit alexanderfresco.com.