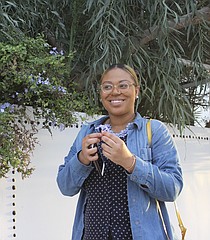 Ko Bragg is a Philadelphia, Miss., transplant who recently completed her master's in journalism. She loves traveliong and has been to 25 countries to date. She attended Spelman College and Columbia University.
Recent Stories

Without discussion, the Jackson City Council gave Mayor Chokwe A. Lumumba and the Jackson Police Department permission at the July 17 meeting to apply for a grant through Project Safe Neighborhoods—the Jeff Sessions-backed umbrella over a federal-state-local Project EJECT policing strategy already in place.
The Jackson City Council voted unanimously on Tuesday, July 17, to approve a memorandum of understanding between Jackson State University and the Jackson Police Department so JSU can do research and analysis on crime data with the intention of reducing gun-related crimes.

The Jackson City Council is expected to vote tonight to accept a $5,000 donation from Domino's for road repairs.

Frontier, the budget airline that promises to bring its customers "Low Fares Done Right," descended upon Jackson today to announce direct flights to Denver and Orlando. It will begin in October but tickets are available for purchase right away.

In efforts to put an end to rumors that Mayor Chokwe Antar Lumumba had been slowing down interlocal agreements between the City and the Hinds County Board of Supervisors, the mayor's office hosted a press conference at City Hall on Wednesday, July 11, where it announced a new committee to iron out this process moving forward.
Jackson's youngest mayor, now 35, assumed his official duties on July 3, 2017, and since then, he has been on a determined-but-rocky mission, as the world looks on.

If downtown Jackson were a person, she would be an upstanding woman with a lot of scars, living in the shadows of painful memories.

For the first time since 1991, Mississippi ranked higher than 49th or 50th in the Annie E. Casey Foundation's annual Kids Count report that measures child well-being across economics, education, health, and family and community.

Assistant U.S. Attorney Candace Mayberry delivered a presentation to middle and high schoolers at the Boys and Girls Club on Raymond Road on June 27 and had them take a pledge against gun violence.

James Davis' first words as Mayor Chokwe A. Lumumba's second interim chief of police were "Glory be to God." He uttered them yesterday in Jackson City Hall's ceremonial office, just dozens of feet away from where a dead body had been found hours before.